Guest Contributor Sean Lypaczewski, Teacher Vegan Minimalist
​

This is a picture of a side street of a small town called Atwood. It's one of the many small farming hamlets that you pass if you ever take the 23 across Ontario. This night in late spring is particularly beautiful. The sun sets over the fields and houses. The seeds of dandy lions fill the air. If you stop and listen behind the hum of the passing cars, trucks and tractors, a place like this has the kind of silence that is only dreamed about in the city.

Tonight though, when this picture was taken, it was hard to hear that silence. My daughter had been screaming in the back of our van without pause. No matter what we did, she kept screaming. What had supposed to be a two hour drive was four hours and counting.

​

And as beautiful as this image was, I was too sleepy, too much worn to the bone to appreciate it.
Powered by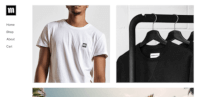 Create your own unique website with customizable templates.